International Activities
(1) Research on national audit systems abroad
The Board conducts research on foreign financial control systems such as activities and audit cases of Supreme Audit Institutions (SAIs) around the world.
The Board hosts the Tokyo International Meeting on Audit, inviting high-level officials and senior auditors from SAIs of leading countries in order to seek possible solutions to the common issues and challenges that SAIs face.
Furthermore, the Board participates in the annual Global Audit Leadership Forum in order to introduce the Board's current situation and to exchange opinions on common audit-related themes in order to promote knowledge sharing.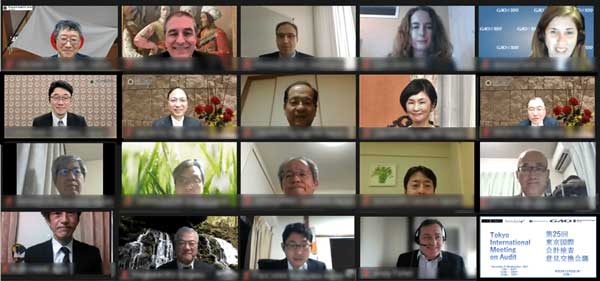 24th Tokyo International Meeting on Audit
(Participating SAIs : SAI Canada, France, Germany, Sweden, U.K, U.S.A and Japan)
(2)Participation in International Organization of SAIs
The Board joins the International Organization of Supreme Audit Institutions (INTOSAI: 195 participating SAIs) and the Asian Organization of Supreme Audit Institutions (ASOSAI: 47 SAIs), one of the INTOSAI regional organizations, to promote international cooperation in the field of government auditing and to build up closer relations with SAIs of various countries and areas. The Board also serves as a member of the INTOSAI Governing Board and Capacity Development Administrator of ASOSAI.
The Board participates in conferences and workshops held by these international organizations in order to discuss important audit-related issues, and to share the latest knowledge and experiences. In July 2019, the Board hosted in Tokyo an annual meeting of the INTOSAI Capacity Building Committee that supports the development of the SAI's professional capacities.
Furthermore, the Board, as Capacity Development Administrator of ASOSAI, is in charge of planning and implementing capacity development programs to provide audit techniques and promote knowledge sharing on government auditing among ASOSAI member SAIs.


Meetings of INTOSAI Capacity Building Committee & INTOSAI Donor Cooperation Steering Committee in Tokyo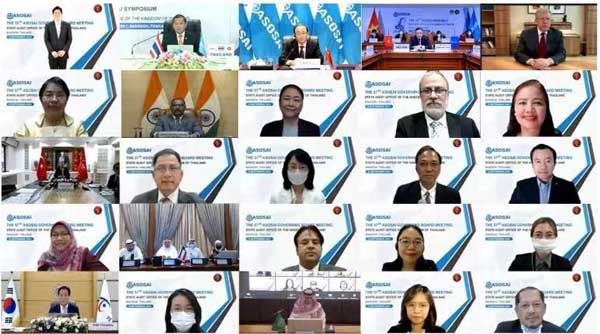 54th Governing Board Meeting of ASOSAI in Kuwait City, Kuwait

23rd INCOSAI(Note), 72nd and 73rd INTOSAI Governing Board Meeting in Moscow, Russia
(Note: INCOSAI is the Congress for INTOSAI members that is held once every three years.)
(3)International Cooperation
The Board co-hosts the training programs on government auditing with the Japan International Cooperation Agency (JICA) for developing countries as part of Japanese technical cooperation.
In 2019, the Board co-hosted the program for SAI auditors of developing countries to learn audit skills and techniques.

The Knowledge Co-Creation Program in Government Audit on Public Construction Works
Home