Procedures of the Audit
The audits by the Board are conducted as illustrated in the chart below.
The procedures are a cycle starting from the preparation of the Basic Policy on Audit and Audit Plan to the submission of the Audit Report to the Cabinet.
In respect to the matters reported in the Audit Report, the Board follows them up until remedial measures are fully implemented.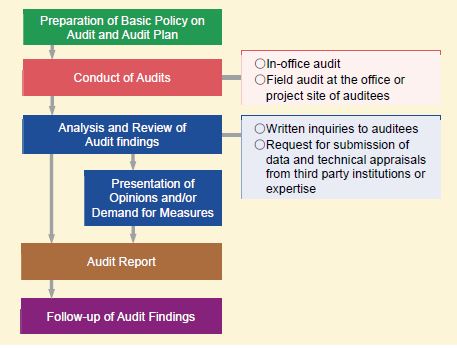 ■Special Report to the Diet and the Cabinet and Special Report on Audit Requested by the Diet
In November 2005, the Board of Audit Act was amended. This amendment enabled the Board to report to the Diet and the Cabinet at any time on matters on which the Board presented its Opinions and/or Demanded Measures and matters which the Board finds particularly necessary to report, even prior to the completion of the Audit Report for that fiscal year.
Since 1997, if the Board receives a request from the Diet under the Diet Law, the Board may conduct an audit of the specific matters requested and report the results.
Summaries of above reports are also included in the Audit Report.